Rotunda Warsaw
Wettbewerb, 2013
In Zusammenarbeit mit Ewelina Klatka
Site Analysis
The site of the Rotunda building is a highly- trafficked area in Warsaw´s city center. It encompasses a major metro station; a number of places of interest, including the Palace of Culture and Science and the Drama Theatre; as well as a busy shopping mall. However, the heavy noise- and air- pollution at the intersection of Marszalkowska and Jerozolimskie Avenues create an environment which does not invite pedestrians to stay longer than necessary.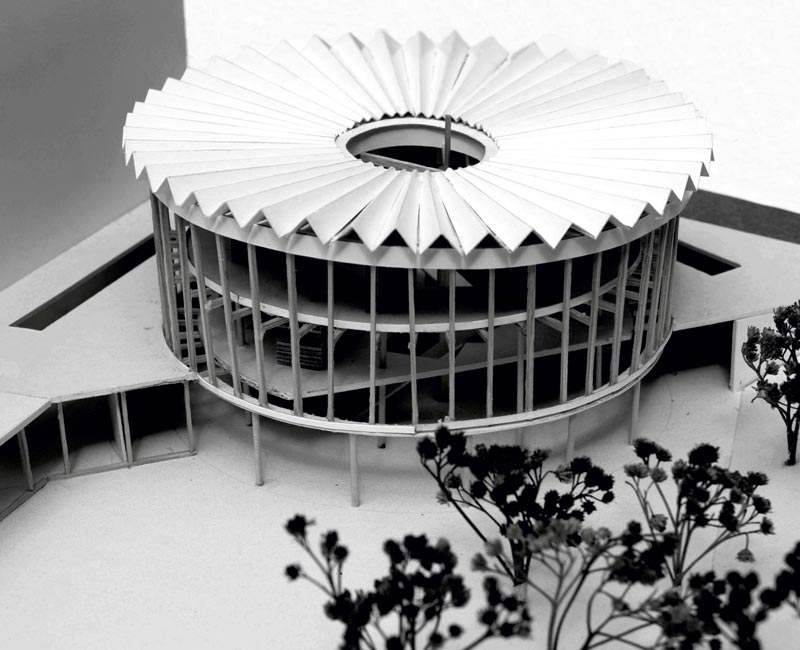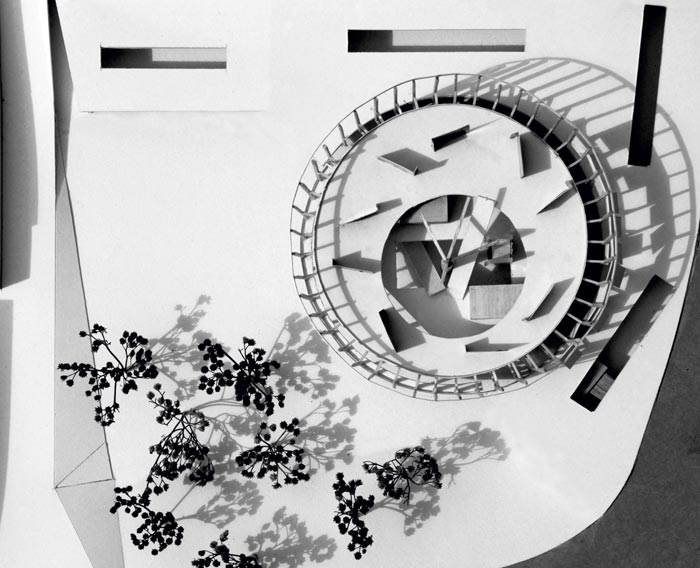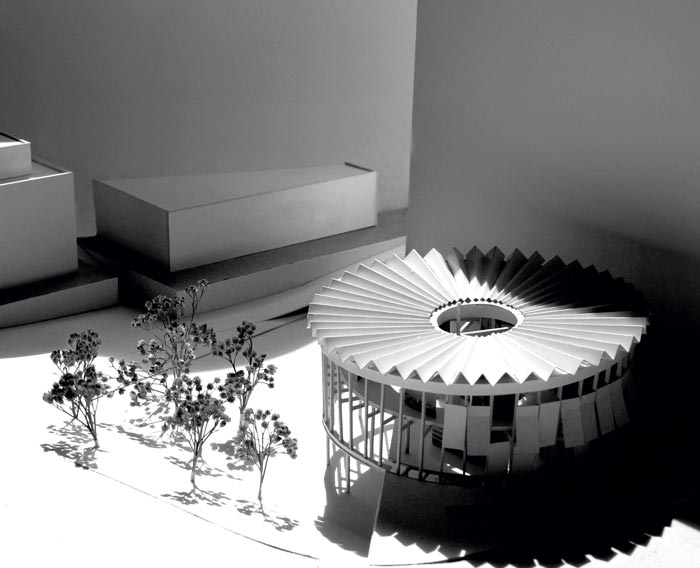 Urban- Design and Uses
Turning the entire area into a big plaza on a lower level would separate the pedestrians from the pulsing car traffic and create an oasis in the city center.
Slopes, which in part will be planted (according to LEED), generous perrons, as well as sequences of stairs at different angles will lead up and down to the plaza.
The plaza level will correspond with the former cellar of the old Rotunda building; and it will serve primarily as an inviting, well-lit, and spacious entrance to the metro station. Thousands of people will enter and exit daily from here, allowing them to see and partake in the activities in the Rotunda and the plaza. Or they may just pass-by as they take care of their financial affairs in the nearby bank.
On the street level there will be small businesses similar to those in the Rotunda, such as a coffee-shop, an after-work bar and a kiosk. These shops will be housed in free-standing, box-like structures between which pedestrians will be able to move freely.
Finally, the third level of the Rotunda will house the arts. This great space with its reconstructed high ceiling does not allow for subdivision into zones or rooms. It is a flowing space with changing light and different views. Temporary, trend-setting art expositions will take place here, creating a new forum, sponsored by PKO Bank Polski.
Architectural Design
The Rotunda building will be re-build structurally from scratch in order to meet current fire-codes, LEED, BREEAM, as well as DGNB. The two circular floors with their cutouts for pedestrian circulation and daylight will be made of exposed concrete. At the same time, they  will carry the heating pipes which turn the system into a cooling ceiling in the summer, following BREEAM.
All rain water will be collected for reuse in terms of LEED. 
There will be sun screens on the south side of the façade which will add to its sophisticated and weightless appearance.
These DuPont material solutions will be incorporated into the design to support the concept:
DuPont SentryGlas for all safety barriers and handrails within the building as well as on the plaza.

DuPont SentryGlas Expressions for the backlit rooflines and walls in the new metro station.

DuPont Teflon for various paintwork